It's Monday! What are you reading? Is a wonderful community of readers, teachers, and librarians. Hosted by Jen over at
Teach Mentor Texts
along with Kellee and Ricki at
Unleashing Readers
, participants share their reading adventures from the past week along with their reading plans for the week ahead.
My Monday posts are generally just a highlight of what I've been reading during the week so if you'd like to see all that I've been reading, follow my
Goodreads
page.
Gah! School starts in 8 days! I haven't even started putting my classroom together. Luckily I share a classroom and have a partner in crime to help me put the room together, but still. Where did the summer go? Oh! I know! The first part of the summer went to me procrastinating over writing my MA project proposal. The second part of the summer went to me scrambling to write my MA project proposal. (I'm happy to report,
I did indeed finish writing my MA project proposal
.)
Current giveaway:
Zack Delacruz: Me and My Big Mouth
by Jeff Anderson
I finished reading:
War is Boring: Bored Stiff, Scared to Death in the World's Worst War Zones
by David Axe and Matt Bors
There is something disturbingly fascinating about feeling like a voyeur into someone else's life and that's what this graphic memoir felt like. We are able to look through the window of what it's like to be a war correspondent. And while David Axe certainly leads a fascinating life, I'm not sure he's someone I would want to be friends with. Then again, you don't have to be likeable to be interesting. And I think what makes Axe so unlikeable is that his war coverage feels cynical and completely self-serving. Axe appears to feel very little empathy for his fellow man, but this book is definitely discussion-worthy.
I finished reading with my ears:
Orange is the New Black: My Year in a Women's Prison by Piper Kerman
Essentialism: The Disciplined Pursuit of Less by Greg McKeown
In the Unlikely Event by Judy Blume
Favorite picture books from last week:
Here She Is! by Catherine LeBlanc, illustrated by Eve Tharlet
This is one of those books where you are clearly aware that your emotions are being manipulated, but you don't care because it just warms the cockles of your heart.
Marilyn's Monster by Michelle Knudsen, illustrated by Matt Phelan
This is a book I will be thinking about for a long time, not just because of how good and content it made me feel at the end, but because there's a lot of complexity in the story that I know I missed upon first reading. This is one of those picture books that I can see very clearly being discussed in a university children's lit class because not only does it appeal to kids on an aesthetic level, but it also appeals to adults on an analytic level.
One Word from Sophia by Jim Averbeck, illustrated by Yasmeen Ismail
Sophia is an adorable, eloquent little protagonist. I especially loved the glossary at the end that pointed out the irony of having so many words for "using too many words." :)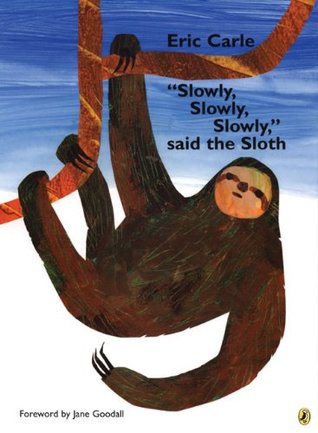 "Slowly, Slowly, Slowly," Said the Sloth by Eric Carle
Because, sloths
Currently reading:
All American Boys by Jason Reynolds and Brendan Kiley
Given the current racial climate in the U.S. right now, this brand new contemporary YA novel by Reynolds and Kiley was fast-tracked for a 2015 publication by Simon & Schuster. As far as I know, no ARCs were printed. I was lucky enough to receive a bound manuscript thanks to a friend I know who works for S&S since he knows what a huge Jason Reynolds fan I am. While the story is incredibly important and compelling, this is not a book I have been able to plow through given how difficult and painful the subject-matter is.
Currently reading with my ears:
Simon vs. the Homo Sapiens Agenda by Becky Albertalli